About our

cottage

At our guests disposal we give a comfortable camp house on the shore of the lake with private beach and platform. Finnish house type "Brda" consists of:
two bedrooms (four separate beds)

living room

full featured kitchen

bathroom and toilet
On the ground floor you'll find a living room (1), kitchen (2) and bathroom(3). Also available are terrace (4) and balcony(5):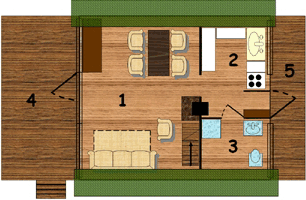 Two bedrooms can be found on the first floor (1,2).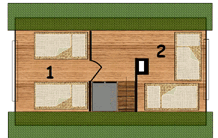 For those of You, who seek active ways of spending vacations We offer sailboat or windsurfing board rental. We also offer help with an organization of kayak tour around our beautiful lakes.
We also give at Yours disposal additional 3 beds inside caravan at our property. There is also possibility of setting up Your own caravan.
Entire area is surrounded with fence, between the house and lake We find a narrow line of trees, which also is part of our possession, all this to guarantee our guest undisturbed rest in privacy and quiet atmosphere.